Way back in July I posted a couple of photos of my Veg*n 7 Layer Fiesta Dip which I always bring to parties and gatherings as it's so requested! I'm finally getting around to giving you all the recipe. Enjoy!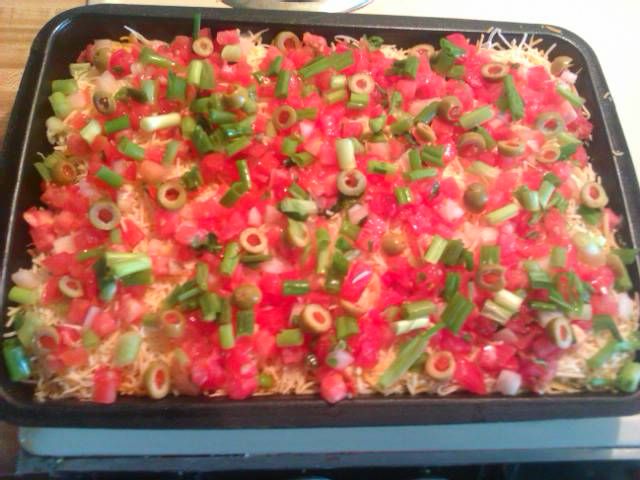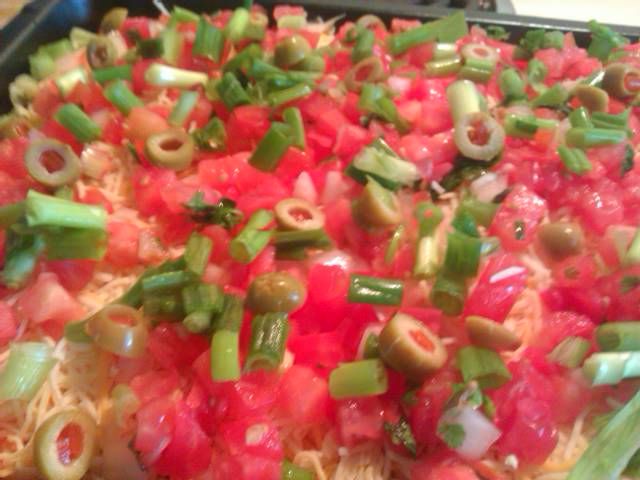 INGREDIENTS:
2 (16oz) cans Vegetarian Refried Beans
1 (1oz) package Taco Seasoning
16oz Tofutti Vegan Sour Cream
1 1/2 cups Vegan Mexican Style Shreds
1 1/2 cups Vegan Mozzarella Style Shreds
1 cup Green Olives with Pimentos, chopped
1/2 cup Green Onion, chopped
METHOD:
1) In a large bowl, combine the Vegetarian Refried Beans, half the Taco Seasoning, Salsa and 3 Tbsp Vegan Sour Cream. Once combined, spread the mixture evenly onto the bottom of a 13" x 9" lasagne pan.
2) In another bowl, mix the remaining Vegan Sour Cream with the remaining Taco Seasoning. Spread this mixture on top of the Bean mixture in the pan.
3) Next, carefully spread the Guacamole on top of the Sour Cream mixture.
4) Combine the two types of Cheese (Vegan Style Shreds) and sprinkle evenly on top of Guacamole, being sure to cover it all.
5) Evenly spoon the Pico de Gallo all over the top of the 'Cheese'.
6) Next, spread the Green Olives and Green Onion over the top ensuring even coverage for an attractive look.
7) Refrigerate until just before you're ready to serve.
8) Immediately before serving, place in the oven for 350 Degrees for 10-30 minutes or until Vegan Cheese has started to melt.
9) Serve warm with Tortilla Chips and Enjoy!